Graphic novels, all grown up
Art form's influence rises, and broadens. A look at three of the genre's stars.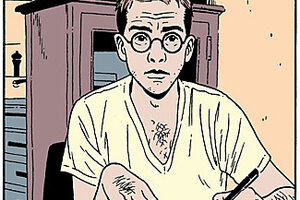 Courtesy of drawn & quarterly
In 1969, the American writer John Updike famously declared, "I see no intrinsic reason why a doubly talented artist might not arise and create a comic strip novel masterpiece."
The statement was immediately ridiculed by literary traditionalists, who disparaged comics as a "low" medium unworthy of serious critical attention. But it became a rallying cry among comic book creators, long second-class citizens in the art world.
Forty years has proved their prescience. Graphic novels – usually defined as extended-length illustrated books with mature literary themes – have risen to widespread prominence, spurred on by the work of respected talents such as Art Spiegelman ("Maus: A Survivor's Tale") and Will Eisner ("A Contract With God").
Graphic novel sales in Canada and the United States hit $375 million in 2007, five times the figure reported in 2001, according to ICv2, a pop culture site. "Jimmy Corrigan," a book by Chris Ware, has sold hundreds of thousands of copies alone; "Persepolis," originally a graphic novel by Marjane Sartrapi, picked up an Oscar for best animated film in February.
A happy problem, then: How to pick and choose among the annual flood of titles? There's no easy rubric – this year alone has seen the rise of several young talents, each with a distinctive literary and artistic style. But a reader interested in immersing in the genre could not go wrong with any of these three books, which span the globe, from World War II-era Germany, to the closed-doors of Burmese society to quotidian existence in an alternate-universe America.
---