Cuba's artistic output finds its place on the world stage
The island nation's deep pool of well-trained artists, along with anticipation of political and social changes, have pushed Cuban art to the fore.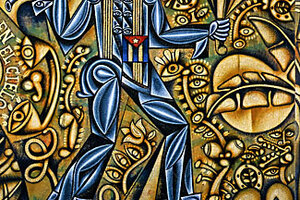 COLLECTION OF CISNEROS CAPITAL GROUP, MIAMI
As host to two new shows featuring Cuban artists, 20th-century master Wifredo Lam and up-and-coming Carlos Luna, this surfer's mecca is riding a wave of another sort, a rising tide of interest in the visual arts of this tiny Caribbean nation.
Nestled inside the coolly modern Museum of Latin American Art, just blocks from the beach, the twin shows "Wifredo Lam in North America," and "Carlos Luna: El Gran Mambo," carry a dual message. On the one hand, they explore themes common to multiple generations of Cuban artists, revealing that the search for a clear identity in the shadow of a neighboring superpower continues from one era to the next. On the other hand, the broader context of the shows reveals something new, say curators, gallery owners, and other art professionals: Latin American art, especially Cuban work, is hot. "El Troubador," by Mexican artist Rufino Tamayo, sold for $7.2 million at a Christie's auction this past spring; the first major museum overview of Cuban art just closed at the Montreal Museum of Fine Art; and the only US gallery solely devoted to Cuban artists reports that, in the past year, sales tripled to $13 million.
"Cuba has always been at a crossroads," says curator Curtis Carter, who assembled the Lam show. Now, he adds, the country's art is taking its place on the world stage.
---