The art of summer in NYC
Sculpture, photography, art, even waterfalls – New York's exhibitions entertain with their originality.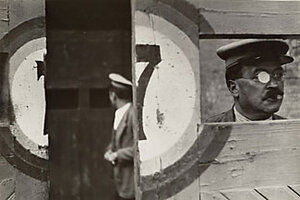 the metropolitan museum of art
Summer art exhibitions in New York City tend to be crowd-pleasing visual extravaganzas of wide public appeal, akin more to a beach novel than an existential tract. The edgier, more challenging offerings are deferred until fall, when the public is more inclined to ponder than laze. This season's shows are indeed alluring, rivaling the siren call of outdoor activities, but they also radiate an indispensable quality of durable art: originality.
•The Metropolitan Museum of Art hosts two shows by aesthetic pioneers: "Framing a Century: Master Photographers, 1840-1940" (through Sept. 1) and "J.M.W. Turner" (through Sept. 21). The Turner retrospective includes 140 paintings and watercolors, displaying the evolution of this British artist's style over six decades. One sees his early precocity and restless refusal to be confined within the approved genre of history painting.
Born in 1775, Turner developed in an age of political revolution. He set off a revolution himself in paint, as gradually his love of the sublime, awe-inspiring aspects of nature took over his canvases, infusing them with dramatic atmospheric effects. Today, Turner is hailed as a precursor to Impressionism and abstraction. Ironically, the traits we now praise earned him ridicule in his own day. Critics disparaged the "indistinctness" of his style, which was called "crude blotches," "pictures of nothing," and "the contents of a spittoon."
---