Mexican street art with an edge
Oaxaca's art first burst onto the city's walls in 2006 after protesters clashed with police.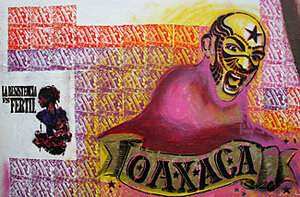 tim stelloh
Scattered among Oaxaca City's brightly colored colonial facades, quaint coffee shops, and lavish hotels, there are signs of unrest. On a downtown street corner, a mural of a masked wrestler, mouth agape, is ready to leap from the wall. A few feet away, a spray-painted image depicts a woman with a child strapped to her back announcing a call to arms: "The resistance is fertile." Around the corner, a rainbow-colored ninja, sword drawn, bounds across a garage door.
In the two years since the Oaxaca City conflict, when protesters occupied the area after clashing with police, such politically charged artwork has spread across the city – as well as to the United States, where coffee shops and museums in New York City and Houston have exhibited the Oaxacan artists' work.
But in this state capital in southern Mexico, travelers don't need to visit a gallery; they can simply walk down the street.
To do so is to witness the past, present, and future of Mexican art: Many of these spray-painted and stenciled pieces borrow from the pop art of turn-of-the-century printmaker José Guadalupe Posada and the very public, very political, mural tradition of Diego Rivera. Others draw from the country's revolutionary iconography or the highly stylized flourishes of graffiti art.
"[The images] portray social realism," says Alan Schnitger, chief curator of "Defending Democracy," the exhibit at Houston's Station Museum featuring Oaxacan stencil artists. "Like popular grafica during the revolution in Mexico, they show the social issues – the farmers, the women, the teachers' union."
---
Follow Stories Like This
Get the Monitor stories you care about delivered to your inbox.