Zimbabwe's art of stone
In midst of political upheaval, Shona sculptors struggle to get their work to Western market.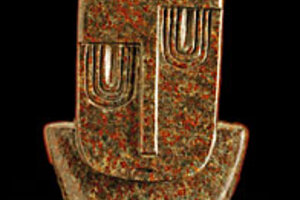 Courtesy of San Diego Natural History Museum
While the art on display at the San Diego Natural History Museum is from Zimbabwe, it's not made for Zimbabweans. The sculptures, known as "Shona art," are made purely for Westerners. But these days, the strife in Zimbabwe is making it difficult for the artists to sell their creations abroad.
The regime of President Robert Mugabe has made it more difficult for foreigners to visit the country, and many art dealers have been affected, says Anthony Ponter, curator of the museum's exhibit, "Spirits in Stone – Art & Animals of Africa." It is one of many exhibits in recent years highlighting art from the Shona tribe of Zimbabwe.
"Given the economic situation, shortages of fuel and transport, and declining tourism, it's much harder today than it used to be" for the artists to get their work to the West, Mr. Ponter says.
Although communication with Zimbabwe is difficult, it's clear that some of the nation's 1,800 to 3,000 sculptors have scattered to other countries, says Ponter, a northern California art dealer who grew up in Zimbabwe.
"Like all population groups, their lives have been impacted by the ongoing political troubles," he says.
The home country of their creators is now known as a place of violence and disorder. But the dozens of stone sculptures on display at a San Diego museum offer a glimpse into another side of Zimbabwe. There are touches of whimsy in many of the stylized, modern-looking sculptures, which portray African animals, spirits, and scenes of family life in stone smoothed to a glossy sheen.
Outside Zimbabwe, the Shona art is still on display and still for sale in many places, as it is at the San Diego museum. The exhibit lasts until Oct. 12.
---