Faking it, artfully
A Brooklyn museum lifts the curtain on its fake Coptic sculptures and wins praise.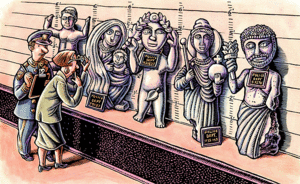 lisa haney
The Brooklyn Museum of Art surprised some New Yorkers last month when it confirmed that it would show a handful of expert forgeries alongside a February exhibition on late antique art. The exhibition, tentatively titled "Unearthing the Truth: Egypt's Pagan and Coptic Sculpture," will focus on a collection of stone artwork dating from the 5th to the 7th century C.E.
According to Edna Russman, curator of Egyptian, classical, and ancient Middle Eastern art at the Brooklyn Museum, experts have long harbored reservations about the 31-piece collection. After a three-year inquiry conclusively revealed that some of the sculptures were fakes – and most had been significantly retouched – Dr. Russman began planning a large exhibition at the museum's recently renovated Brooklyn campus.
"The sculptures had been in storage for decades, but they were very popular when they were first exhibited. I was impelled to put together another exhibition," Russman said in an interview. "And if I'm going to put them out there again, I have to put out the fakes too. This story has to be told if we're going to show this material at all."
Russman's decision, first reported in the London-based Art Newspaper and carried breathlessly by a wide range of media outlets here, calls into question the authenticity of similar artwork in institutions across the world. As the Art Newspaper noted, "[M]useums which acquired Coptic sculptures in the past 50 years are likely to face similar problems."
---
Follow Stories Like This
Get the Monitor stories you care about delivered to your inbox.