Six Picks: Recommendations from the Monitor staff
Lyrical jazz from Bobo Stenson, a free download from Dido, a new website for snagging cheap plane tickets, and more.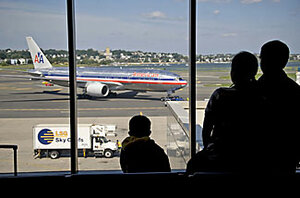 Ann Hermes/The Christian Science Monitor
shimmering, Lyrical Jazz
Swedish jazz pianist Bobo Stenson has long been more revered in Europe than in North America, but Cantando might finally bring world acclaim. With longtime bassist Anders Jormin and new drummer Jon Falt, Stenson improvises over a tango, a bit of Afro-jazz, a Cuban folk song, and a heartbreakingly elegaic "Song of Ruth" by Czech composer Petr Eben, performed twice to bookend the album. A crystalline, shimmering, improvisatory atmosphere informs every moment of this lyrical achievement.
Gets our vote
You might think voting would be the least contested part of an election. But Stealing America: Vote by Vote, a new documentary by Dorothy Fadimen, offers a refresher course in electoral fraud. It has a long history. And the paperless electronic voting machine is not improving public confidence in counting accuracy. This persuasive if slightly left-leaning look at what's at stake will make you yearn for paper ballots. (Available at stealingamericathemovie.org.)
Phelps suits up for a saturday night laugh
Keen to capitalize on presidential politics, not to mention the heroes of the Olympics, Saturday Night Live gets off to an early start this year. Tomorrow night at 11:30 p.m., swim-star host Michael Phelps ushers in a new season of comedy. Says NBC entertainment co-chair Ben Silverman, "We're really excited to tap into all of the comedy fodder hopefully coming out of the conventions."
---