Karsh's art – iconic yet intimate
Canadian photographer's celebrity portraits avoided cynicism and remain revealing decades on.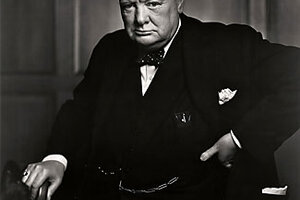 Courtesy of Museum of Fine Arts, Boston
Before there were paparazzi, there was Yousuf Karsh (1908-2002), the eminent Canadian photographer who specialized in portraits of world luminaries, or "the good, the great, and the gifted," as an Australian exhibition of his work was titled. More than 100 of his iconic, black-and-white portraits can be seen at the Museum of Fine Arts in Boston through Jan. 19 in a retrospective, "Karsh 100: A Biography in Images."
The show, which celebrates the centenary of his birth, inspires déjà vu, not just because the roster is a flashback of masters of the universe in politics, science, and the arts. Karsh's subjects like Albert Schweitzer, George Bernard Shaw, and Cary Grant hail from a vanished era, and his style, too, is like a burnished relic from the 20th century.
Today throwaway images of celebs at their daily tasks, hair askew and paunch hanging out, bombard the public. In contrast, a Karsh portrait is monumental, ready to be carved on Mt. Rushmore. He toted his 350 pounds of equipment to his subjects' studios, homes, and offices to capture them for eternity, in all their majesty.
---
Follow Stories Like This
Get the Monitor stories you care about delivered to your inbox.