Los Angeles finds its heart
Downtown L.A.'s cultural corridor struggles to define its profile and its audience.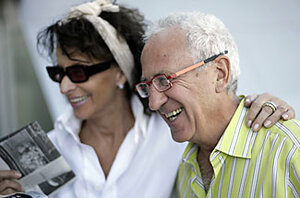 Francis Specker/Special to the Christian Science Monitor
Grand Avenue, Downtown Los Angeles
Stand in the honey-toned atrium lobby of the iconic Frank Gehry-designed Walt Disney Concert Hall at the end of a performance, and the chattering crowds radiate a sophisticated urbanity that seems ready to pour into a bustling city's vibrant après-theater night life.
But take a few steps back through the hall's front doors and it's as if someone abruptly pulled the plug on a movie projector. Virtually none of those concertgoers make it onto the sidewalks of downtown Los Angeles, which are eerily muted.
Shortly, the concert hall itself is quiet, the patrons having funneled down into a vast underground garage and into their autos.
Up and down Grand Avenue, similar scenarios play out by night and day at the various institutions – the Los Angeles Opera, the Center Theatre Group (CTG), The Colburn School, the Museum of Contemporary Art – that line this cultural corridor.
This is hardly the vibrant cultural city heart envisioned by civic leaders and benefactors such as Dorothy Chandler and Mark Taper, whose names grace the 1950s-era plaza directly modeled on New York's Lincoln Center. This stubborn contradiction between the increasingly world-class magnets downtown – from the impending arrival of classical music wunderkind Gustavo Dudamel as the new music director of the Los Angeles Philharmonic to the rapid growth of the opera under the leadership of tenor superstar Placido Domingo – and the frankly depressing downtown environs continues to bedevil the city's cultural leaders.
---