Six Picks: Recommendations from the Monitor staff
A 'delicious' Latin music mix, quilts that qualify as art, the Iditarod from the comfort of your sofa, and more.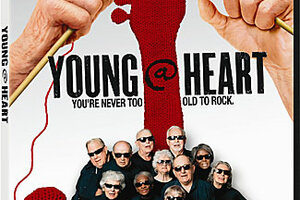 Courtesy of 20th Century Fox Home Entertainment
The play's the thing
During these tough times, here's a real treat: From Oct. 16-30, 600-plus theater companies in more than 120 US cities are offering a chance to experience live theater – free of charge. Check out www.freenightoftheater.net for listings. Everyone, please take your seats.
Rent@once
Young@Heart, a documentary about a senior citizen choir that sings rock music, doesn't exploit its subject. It's fun watching old folks sing David Bowie's "Golden Years" or Coldplay's "Fix You," but the filmmakers' real interest is how the joy of music gives these retirees a new lease on life.
Latin music layer cake
The 15 solo artists and groups on The Rough Guide to Latin Street Party (World Music) display a gleeful energy. Chale Brillante y Su Gambino combines mambo brass choruses, flamenco castanets, and Dominican merengue rhythms creating a delicious musical layer cake. Other groups integrate rap with South American folk dance beats. Like any stylistic mix, success depends on agile rhythm sections, sharp studio production, and, in this instance, a consistent dance party vibe. This succeeds on every level.
ART SEWN, SIGNED, and DELIVERED
When does quilting, that beloved folk craft, become "art"? In gathering examples from 40 quilters globally, Martha Sielman has assembled a radiant assortment of craft elevated to high art in Masters: Art Quilts (Lark Books). If any one thread runs through this colorful collection, it is that these designs shout out for artistic display on walls rather than just covering beds. Styles range from quilts evoking Oriental landscape paintings to cubist collages.
---