How Estonians sang their way to freedom
A new documentary tells story of how the national tradition of singing helped unite the masses against the Soviet occupation.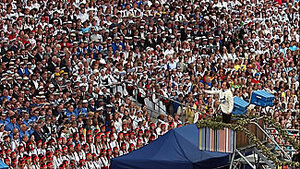 Courtesy of Sky Films, Inc.
Walk around the verdant green amphitheater known as the Lauluvaljak, or song ground, here on the outskirts of Tallin, Estonia, and it's easy to imagine the air alive with music, reverberating up the grassy slopes from the half-domed, vaulted stage at the bottom of this natural theatrical setting.
But to grasp what it feels like to be amid an audience 300,000-strong, singing in Von Trapp family-like harmony with sub rosa political purpose, you'll just have to pick up the DVD of "The Singing Revolution," a passion project by documentarians Jim and Maureen Tusty. Released this week, it is the story of how a tiny country (population: 1 million) with a 5,000-year-old culture, perched on the western edge of the Russian giant, used its tradition of song to finally free itself of foreign occupation, in this case the Soviet state, in 1991.
This tale of how peaceful crowds managed to fend off Soviet tanks as they attempted to take over the local television station is operatic in its drama, says the married couple. "This is the story of the power of nonviolent resistance to succeed where guns and rock-throwing would have resulted in death and more political oppression," says Jim Tusty. The nation was trying to throw off the Soviet yoke, which ensnared it in 1939, when Hitler and Stalin secretly signed a pact to divide up the Baltic countries. But, says Jim Tusty, it is also the story of a relationship between art and politics.
---