Six Picks: Recommendations from the Monitor staff
A well-sourced website for the undecided voter, Snow Patrol's latest anthemic album, Kit Kittredge's sweet charm out on DVD, and more.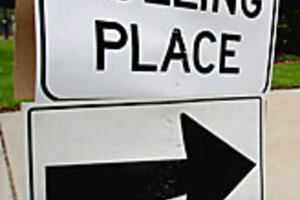 Robert Harbison/The Christian Science Monitor
Not your average kit... er, kid
The first major film based on the long-popular American Girl series doesn't disappoint. Kit Kittredge: An American Girl (now on DVD) tells the story of a girl growing up during the Great Depression. The family decides to take in paying boarders after her father loses his job. When the lockbox with everyone's valuables is stolen, Kit must prove that her hobo friend isn't guilty, and find out who is. With good performances by all, this movie is sweet but not sappy.
Ireland's favorite 'Suns'
On its third album, Snow Patrol do more than deliver the sort of anthemic ballads that turn stadiums into galaxies of twinkling cellphones. There are still several such moments on A Hundred Million Suns (the pleasing "Lifeboats" and "The Golden Floor"), but the Irishmen have become more musically ambitious and even pull off a magisterial 16-minute epic titled "The Lightning Strike."
The chosen one
Still missing Xena and Hercules? Good news! The same team behind that slightly cheesy yet strangely satisfying television entertainment is back with a new series aimed at a younger set. Legend of the Seeker, based on the popular novels by Terry Goodkind, features all the important elements of sci-fi fantasy: a chosen one whose destiny is to defeat the evil overlord and save the universe. Woohoo! Series debuts Nov. 1. Check local times and channels at www.legendoftheseeker.com.
---