Six Picks: Recommendations from the Monitor staff
Tally up your carbon footprint, giggle at 30-second 'bunnified' movies, lift your mood with some Depression-era blues, and more.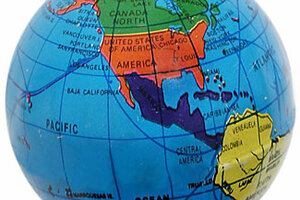 Rebecca Swiller
Think small
Are you a "Bigfoot" when it comes to planet Earth? Check out the Ecological Footprint Calculator at www.earthday.net/ecofootprint, where you "build" a 3-D avatar and construct a virtual neighborhood based on your food, energy, and transportation habits, etc. The calculator then tallies up how many planets it would take to sustain human life if everyone lived as you do. The good news: You'll find out ways you can make a not-so-big "impression" on the world.
Bucking the blues
Listen to the lyrics of blues songs about money troubles and you'll hear dry wit ("People are raving about hard times,/ I don't know why they should,/ If they were like me,/ they didn't have money when times were good"), stinging political satire, and inspiring resilience. It's all on the new Ain't Times Hard: Political and Social Comment in the Blues (JSP Records, $28.98) – a four CD box set showcasing 100 blues songs about coping with American economic downturns between 1928 and 1953. So dance your blues away to the boogie-woogie of Big Bill Broonzy's "Unemployment Stomp."
Worth a visit

If you share your views of immigration with the Minutemen Border Patrol, you may want to skip this item. For everyone else, rent The Visitor, now on DVD. In the film, a bereaved widower from Connecticut visits his New York apartment only to find it occupied by two illegal immigrants. This tale about one man's reengagement with the world was written and directed by Tom McCarthy ("The Station Agent").
---