Sculpture: Sending in angels
Lin Evola-Smidt turns weapons into art – on an increasingly ambitious scale.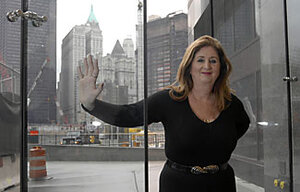 Stephanie Keith/Special to The Christian Science Monitor
The artist Lin Evola-Smidt lives these days in Manhattan, but she is fond of saying that her sculpting career really began 3,000 miles and a world away. This was back in the early 1990s, when Los Angeles murder rates were among the highest in the country and local authorities struggled to tamp down illegal gun sales. Ms. Evola-Smidt followed the news from her San Francisco home with a growing sense of dread. Her son, Jason, was 8 at the time. What kind of world did he stand to inherit?
"I'd been an artist since the first time I opened my eyes, but I wanted more at that moment than to just create a piece of art. I wanted people to make a shift within themselves," Evola-Smidt remembers. She is speaking at the offices of her publicity firm, Rubenstein Communications, which sits some 30 floors above midtown Manhattan. It's almost winter, and behind her, outside a row of ceiling-length glass windows, the greenery of Central Park is turning slowly to dun.
With the benefit of hindsight, of course, the whole, grand idea sounds pretty outlandish, even to Evola-Smidt: First, convince a chunk of Los Angeles residents to voluntarily give up their guns. Then melt down the weapons and create art. And not just any art, but statues of angels, which, as Evola-Smidt points out, have historically stood for "the uplifting of humanity." For a few weeks, Evola-Smidt played devil's advocate with herself. "I told myself to get ready," she says. "I thought lots of people would say 'No way.'"
---