E-book revolution favors the agile
As conventional book sales sink, small presses lead the way in mass digitization.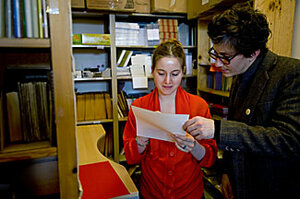 Ann Hermes/The Christian Science Monitor
The mood is one of gloom and not a little confusion. For months, the publishing industry has been rocked by successive setbacks – shrinking sales, widespread layoffs, and a grim fiscal forecast for the new year.
Still, as the critic Lev Grossman wrote this month in Time magazine, publishing isn't dead yet. It is "evolving," he argued, "and so radically that we may hardly recognize it when it's done." According to a recent study published by the National Endowment for the Arts, "literary reading" has risen 3.5 percent since 2002 – the first spike in decades. And an increasing number of readers are consuming content on their computers or on digital readers such as Amazon's Kindle.
In an otherwise bleak Jan. 23 report on November sales – a 14.4 percent decline over the same period in 2007 – the Association of American Publishers noted that e-book business had more than doubled for the month, to $5.1 million. Over the course of the year, e-book sales were up 63.8 percent. It is in these figures that many industry analysts see hope for the publishing industry at large, which is turning slowly – and not without some grumbling – toward mass digitization.
---