Impressionists on the road
Fine art collection of two prescient Welsh sisters set to dazzle small cities in US.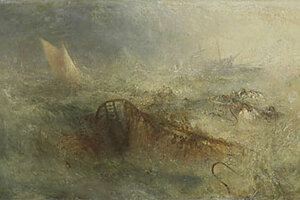 courtesy of american federation of arts
One hundred years ago, the face of the world was changing drastically, with new industries, technology, and forms of transportation and communication emerging.
How did two spinster sisters from a village in rural Wales respond to all of this social upheaval? Gifted with a vast inheritance from their industrialist grandfather, Gwendoline and Margaret Davies began to collect art – not just any art, but the most progressive French paintings of the day.
Their legacy, bequeathed to the National Museum Wales, now composes one of the finest Impressionist art collections in Europe. For the next year, 53 highlights will tour the US, opening March 6 at the Columbia Museum of Art in Columbia, S.C.
The Davies sisters acquired most of the works between 1908 and 1923. "Their taste was brave: admirably and positively modern," according to Paul Greenhalgh, director of the Corcoran Gallery of Art in Washington, D.C., who contributed an essay to the exhibition catalog, "Turner to Cézanne: Masterpieces from the Davies Collection, National Museum Wales."
---