Museums push to decode Leonardo da Vinci
Elusive and prolific, the artist-inventor owns a pop-culture profile that both lures and detracts.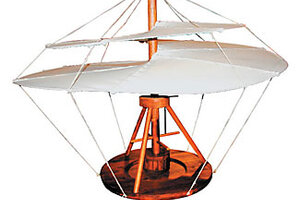 Ccourtesy of the da vinci experience, llc
The San Diego Air & Space Museum, normally devoted to airplanes and astronauts, is offering some unusual items in its gift shop this winter. Browsers can buy "Last Supper" after-dinner mints, make-it-yourself miniature catapults, and Leonardo da Vinci action figures complete with tiny easels.
None of this kitsch has much to do with flight, but Leonardo himself does. He imagined the parachute, glider, and helicopter, along with a fantastic array of machines, weapons, and tools. A new exhibit here is showcasing dozens of full-sized replicas of his contraptions, from the bicycle to the life preserver to, yes, a catapult.
Science museums in Birmingham, Ala., and Portland, Ore., are offering similar exhibits. Meanwhile, a collection of rare drawings by Leonardo finished a US tour earlier this year after leaving Italy for the first time.
Nearly five centuries after his death – and six years after "The Da Vinci Code" hit bookstore shelves (and later, theaters) – the original Renaissance Man has become a major draw for science, flight, and art museums, even though it's difficult, if not impossible, to display his original works.
"He's an accessible person. You can see what he accomplished, and see that he had no advantage to help him accomplish any of that," says Godfrey Harris, curator of "The Da Vinci Experience" exhibit, now in San Diego. The exhibit has drawn a quarter-million visitors to several venues in the West.
---