Six Picks: Recommendations from the Monitor staff
Dennis the Menace's early days now in hardcover, British crime series 'Cracker' new on DVD, Siegfried & Roy's final bow, and more.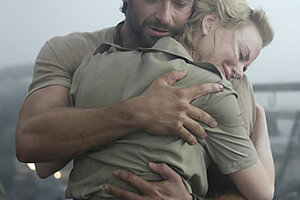 Courtey of James Fisher/Twentieth Century Fox
that epic from oz
Aussie Baz Luhrmann ("Moulin Rouge," "Romeo and Juliet") isn't everyone's favorite filmmaker, but for those who appreciate his mix of the ironic, kitschy, and melodramatic woven into sweeping storytelling, Australia is the perfect flick. Featuring Nicole Kidman, Hugh Jackman, and the stunning Australian countryside. Available March 3 on DVD.
googling 'zines
Score another one for the kids over at Google. Among the latest additions to the long-running Book Search project is a whole swath of magazine back issues, from Baseball Digest to New York. Now you can spend time reading about Ken Griffey Jr.'s rookie season or Madonna's domination of the pop chart in the 1990s for absolutely no cost. You don't get to hold that glossy treasure in your hand, but it's ecofriendly, easy to navigate, and you get all the content you want, without the filler you don't. Get browsing at books.google.com.
he's back, Mr. Wilson
Hank Ketcham first started sketching the Dennis the Menace comics in the early 1950s, drawing on the antics of his own young son. The strip eventually became a household name, and for a while, before he handed art duties over to a succession of younger artists, so did Ketcham. Now the Seattle publisher Fantagraphics is reviving the comic pioneer's work in a series of beautiful hardcover editions. The latest covers the period from 1959 to 1960 and is available on Amazon or fantagraphics.com. Dig out your slingshot and get reading.
---