Six Picks: Recommendations from the Monitor staff
James Morrison's newest CD of love songs, Disney's delightful 'Bolt' now on DVD, a fascinating PBS documentary on two pioneers of women's cosmetics, and more.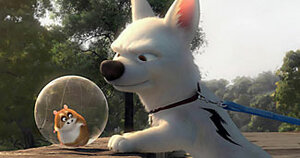 Courtesy of Disney Enterprises
SONGS FOR YOU
Sounding uncannily like his idols, Stevie Wonder and Marvin Gaye, young Brit heartthrob James Morrison follows up his smash debut "Undiscovered" with Songs for You, Truths for Me, a CD that comes close to the appeal of its predecessor, but falls a little short in the unforgettable song department. If you don't have the first one, let this be your second James Morrison purchase. He'll be around for a while.
SHUFFLETTE
In times of recession, small is the new big. That's the idea, anyway, behind Apple's new iPod Shuffle, which is less than two inches tall and a breathtaking 0.3 inches thick. It costs less than $80, and will play more songs than the casual listener probably owns – Apple estimates the capacity at 1,000 songs. Best of all is the VoiceOver feature that will lower the volume of the song and identify the artist anytime you want. Log on to Apple.com/iPodShuffle for more information.
Wiki PAST
Interested in how information is processed and distributed in this Web age? Andrew Wih's The Wikipedia Revolution: How a Bunch of Nobodies Created the World's Greatest Encyclopedia, is a good place to start. Wih, an analyst, academic, and Wikipedia administrator, has spent a lot of time in the digital trenches, and he offers a wide-angle look at how thoroughly – and swiftly – the site has changed our lives. The best part: The afterword of this book was created online, using the same open-source technology that powers Wikipedia itself.
Real Beauties
---