Swiss architect wins prized Pritzker award
Peter Zumthor's designs for an art museum emerging from a bombed-out church and thermal baths both caught the jury's eye.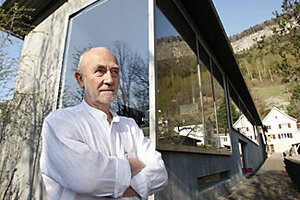 Arno Balzarini/Keystone/AP
The 2009 Pritzker Architecture Prize, the most honored name in its field, will be awarded to Swiss architect Peter Zumthor. The ceremony will take place in Buenos Aires, Argentina, May 29, which marks the first time the award will be held in South America.
On receiving the news, Mr. Zumthor said, "It is such an honor to receive this award for the architectural work we have done over the past 20 or so years. We are a small company, only 20 young people, from eight different parts of the world, and we're located in the remote village of Haldenstein, Switzerland. To have our buildings and museums recognized by the professional world makes us humbly proud."
The Pritzker selection jury, as well as fellow architects worldwide, have been impressed by the works Zumthor has done not only in Switzerland, but in Germany, England, the United States, Spain, Austria, Norway, Finland, and the Netherlands. At present, he is working on a design for Norway, right near the North Pole, a memorial for 92 slain martyrs, accused of being witches. He says, "Recognition of their bravery is belated but not forgotten."
---