Images of America's West held up against today's reality.
New exhibit at MoMA juxtaposes idyllic early photographs against darker ones of today.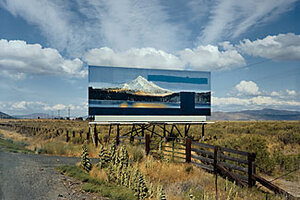 Stephen Shore/MoMA
If one photo in a current Museum of Modern Art exhibition epitomizes the message of the show, it's Wells Moses Sawyer's 1897 portrait of two native Americans, "Chief Joseph and Nephew." Sitting side by side with equally rough-hewn faces are an older man (aka "Thunder Coming from the Water Up Over the Land") in colorful buckskin-and-feathers regalia and his nephew, Amos F. Wilkinson, wearing drab, ordinary garb (page 40). There you have it: the poetry and prose versions of the West, Thunder versus Amos, the romance and the reality. "Into the Sunset: Photography's Image of the American West" (on view until June 8) so overflows with such contrasts, it might well be titled "Paradise and Paradise Lost."
The exhibition, divided into landscapes and portraits of Western archetypes, includes 138 images by 75 photographers, ranging from the dawn of photography in the 1850s through 2008. Big names, like Timothy O'Sullivan, Ansel Adams, Edward Weston, Dorothea Lange, and Cindy Sherman, are present.
---