Six Picks: Recommendations from the Monitor staff
'Enchanted April' on DVD at last, an intimate look at Iran's revolution on HBO, a documentary that will have you dancing, and more.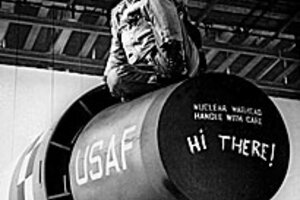 AP
Renewed enchantment
Almost two decades after its debut on the big screen, Enchanted April (1992) is finally out on DVD. The charming tale follows four English women in 1920s London who rent a small castle in Italy for the month of April. As the unlikely foursome – who are variously unhappy, religious, freewheeling, or widowed – relax in the idyllic setting their change in mind and mood borders on the magical. Time to plan your vacation!
Old satire, new relevance
Stanley Kubrick's Dr. Strangelove or: How I Learned to Stop Worrying and Love the Bomb has lost none of its zany relevance on its 45th anniversary. Out on Blu-ray June 16, this satirical riff on the dangers of bombs as political tools is as pointedly resonant today as it was in the cold war era that birthed it. The extras are a bonus, but really, pick this up for Peter Sellers's classic turn as the film's multiple leads.
A revolution's back story
As a 17-year-old revolutionary in 1979 Iran, Nahid Persson Sarvestani was part of a generation that brought Islamic rule to her native land and sent the royal family into exile. Three decades later, this Emmy-nominated filmmaker, who became disillusioned with Iran's harsh revolutionary rule and went into exile herself, comes full circle as she seeks out Queen Farah, who now lives in Paris. Together they share their journeys in a 90-minute documentary, The Queen and I. This compelling look at two personal stories and the light they shed on the larger political story airs June 17 at 8 p.m. on HBO.
---