Six Picks: Recommendations from the Monitor staff
Television's 'Merlin,' an enhanced version of Sims, travelers' guide to ancient Greece, and more.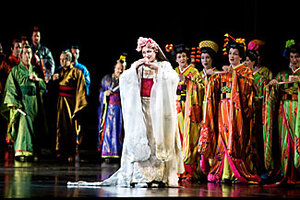 Metropolitan Opera
Minghella's 'Butterfly'
Experience the lushly produced Puccini's Madama Butterfly, created for New York's Metropolitan Opera by the late Anthony Minghella, when it airs on PBS June 20 at noon under the "Great Performances" umbrella. This British director uses his film experience to brilliant effect, bringing the operatic tradition to home audiences with up-close-and-personal camerawork and acting from his performers.
Young scottish songster
Singer/songwriter Paolo Nutini came out of nowhere a few years ago with a debut album of blue-eyed soul that spawned three hits and established the young Scot as an artist to watch. Possessed of a life-worn voice sounding a half century older that his 22 years, he is back with Sunny Side Up, channeling the persona of an old ragtime street busker in place of the radio-friendly soul man of his debut. The music is loose, rollicking, romantic, and totally unique. It's the sound of a young man having a ball.
A wizard's story
Much storytelling ink has been spilled on the Arthurian myth, but little attention has been given to Merlin, the magician that legend says mentored the young royal until maturity. NBC's glossy, ambitious new series, Merlin, which debuts June 21 at 8 p.m., takes us back to the reimagined awkward beginnings of both the once and future king and his magical tutor, not to mention Uther, Morgana, and Guinevere.
---