Finland's tango fever
Despite being continents away from Argentina, the shy Finns have a passion for the melancholy music and dance.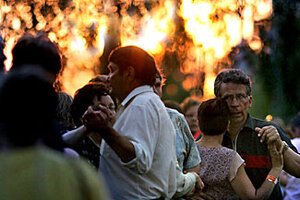 Courtesy of Martti Hautamˇki/Seinˇjoen Tangomarkkinat Oy
Finland. A nation of reindeer, saunas, Nokia cellphones, and its own special version of... tango?
Yes. It seems the melancholic music is a perfect match for the typical Finnish soul. "It's a little bit sad, and it's beautiful," a woman tells me at a dimly lit Helsinki restaurant that regularly hosts dances. Paradoxically, when she moves to these sad melodies, she feels happy. (She didn't want to be named, her reason being another national trait: shyness.)
When Finns first laid their eyes on performances of the Argentine tango nearly 100 years ago, they latched on and soon made it their own. By the 1930s, songwriters were penning original Finnish lyrics, setting the stories in their own snowy landscape.
During World War II, dancing was forbidden, but persisted in secret. Tango records avoided prohibition, however, and became soldiers' favorite method for courting sweethearts back on the home front.
The lyrics spoke of people "longing for each other,... feelings of passion, desperation, hope, the hunger of love. Tango became the way of communication between people during the war," says Maarit Niiniluoto, an expert on the history of Finnish tango.
It's a chilly afternoon in Helsinki, but it's warm inside Cafe Tin Tin Tango, where the mood is set by the minor-key tunes playing perpetually in the background.
Tango music doesn't sell so well these days. Young Finns favor heavy metal or the latest hits from abroad. People under 30 haven't lived enough to fully appreciate tango lyrics, Ms. Niiniluoto says. Nevertheless, it's etched deeply into the culture. Most schoolchildren learn the Finnish version of the dance, along with the waltz, foxtrot, and a Finnish dance called humppa.
---