Six Picks: Recommendations from the Monitor staff
National parks' fee-free weekends, a money tale from Niall Ferguson, opera for Bellini fans, and more.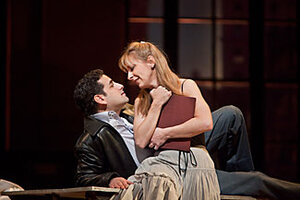 Courtesy of PBS
A sleepwalker's tale
Spend another Saturday with world-class opera when PBS airs No. 8 in its 11-part "Great Performances at the Met." On July 11, Bellini's music soars in "La Sonnambula," an updated production of the 19th-century Italian tale of a haunted sleepwalker who must prove her love. The program, sung in Italian with English subtitles, is scheduled for noon.
Money, money, money
Confused about money? Financial historian Niall Ferguson will explain it all to you, with a look backward and forward, showing where money, and all the various financial instruments on which our economy relies, have come from. The four-part series "The Ascent of Money," an expanded version of a single hour that aired in January, begins July 8 on PBS at 9 p.m.
Life at downing street
"Number 10," the British drama series about the famous occupants of that London address, brings to life the country's prime ministers. First aired on ITV in 1983, this seven-episode DVD box set ($49.99), available in the US June 30, covers top figures from the Napoleonic era to the 1920s, going behind the news headlines into the private lives and trials of Britain's leaders.
A cinematic view
---