Photo exhibit offers an intimate look at America's jazz ambassadors
Black jazz legends were sent abroad as part of a State Department diplomatic push even while segregation continued back home.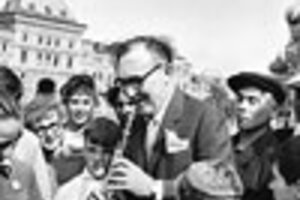 Irving S. Gilmore Music Library/Benny Goodman Papers/Yale University
The black-and-white photographs in "Jam Session: America's Jazz Ambassadors Embrace the World" don't come with a manual, but they should.
The 70-odd images about to go on display at the Louisiana State Museum in New Orleans will tour the country before going abroad like the musicians who spiffed up America's image during the cold war.
Three months after Rosa Parks refused to move to the back of a Montgomery, Ala., bus and roughly at the same time that black Americans were facing censure and arrest as a matter of law and whim, the US Department of State entrusted jazz musicians with representing America to the world.
Today, jazz is considered high art. In 1956, however, when Dizzy Gillespie became the first to tour under the Jazz Ambassadors program, jazz musicians were distinctively lowbrow; they had the same chance of winning presidential honors as a rap group does today. Jazz, after all, was Negro music, burped, fed and nurtured in all-Negro communities.
Browsing 20 years of happy images of black musicians performing on State Department-sponsored tours inspires a kind of cognitive dissonance. White Americans are reacting violently to Supreme Court orders to desegregate public schools, but here is a photo of Gillespie in 1956, sitting cross-legged on the ground, charming a cobra with either his cheeks or his trumpet in Karachi, Pakistan.
---