As with his creative works, Merce Cunningham had a vision for his legacy
The choreography created a precedent-setting living egacy plan to avoid the bitter feuds that entangled Martha Graham's work after her death.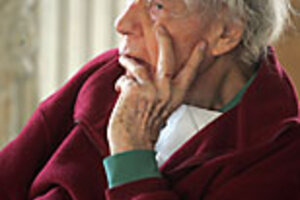 Ronna Gradus/ Miami Herald/ AP/File
The modernist choreographer Merce Cunningham, who died July 26 at age 90, was always ahead of his time. He was even ahead of his own departure from this world, announcing in June his wishes for the sequel to his life. "Merce was an artistic maverick and the gentlest of geniuses," says Judith R. Fishman, chairman of the Cunningham Dance Foundation, which is charged with carrying out his instructions, including a world tour by his dance company, ending in a New York performance with all tickets only $10.
His vision was always a combination of the very explicit (his choreographed movements) and the open-ended (numerous collaborative elements). In his piece "Split Sides," for example, an onstage roll of the dice determines all elements at each performance. Only then do dancers discover the costumes, set, lighting, and score. They leap about barefoot, their movements almost autonomous, like leaves swirling in the wind. Thirty-two different combinations are possible, reflecting Cunningham's embrace of chance.
Yet, in a press conference held in Cunningham's dance studio shortly before his death, Fishman announced, "The future of his life's work cannot be left to chance."
Trevor Carlson, executive director of the foundation, describes Cunningham's "precedent-setting" living legacy plan, a model for other cultural groups "transitioning to a post-founder existence."
---