Mosque modern
A Turkish designer brings a woman's touch – and perspective – to the interior.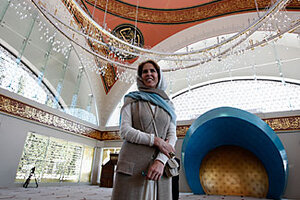 Murad Sezer/Reuters
The keening cry of a call to prayer mingles with the screech of seagulls in Üsküdar, across the Bosporus from Istanbul. Worshipers hurry to the recently opened Şakirin Mosque, which resembles a futuristic fantasy with its sleek dome and rocketlike minarets. Inside, the décor is similarly radical. The mihrab, or niche to indicate the direction of prayers, is not only bright turquoise, it's shaped like a shell. The minbar, or stepped pulpit – instead of the usual carved stone or wood – is acrylic. Most radical is the fact that the interior design was created by a woman, a first in mosque architecture.
In creating the design, Zeynep Fadillioğlu, an elegant Turkish interior designer, considered more than aesthetics. As she told the Hürriyet Daily News, an English-language newspaper in Istanbul, "When designing this mosque, I had the women in mind."
A little background: Women not only have to cover their heads when entering a mosque, they must retreat to a segregated section to pray. This area is often cramped, hidden behind a screen at the rear, or sequestered in a gallery upstairs. According to "The Contemporary Mosque," co-written by Renata Holod and Hasan-Uddin Khan, while men pray shoulder to shoulder beneath the huge dome, "rarely has there been any expectation that there would be parity in the amount of space assigned to men and women."
---