Whose art is Katrina art?
In hurricane's wake, local artists found themselves competing with outsiders to record the event.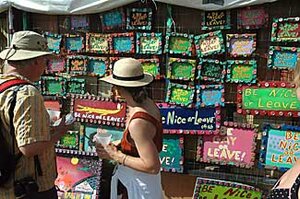 David Rae Morris/Reuters
New OrleansFour weeks after the levees broke, submerging her city under 10 feet of water, Susan Gisleson sneaked back into the city to rebuild her house. The New Orleans native waited for her neighbors to show up and do the same. But at the end of each day, she and her family were still alone.
"Nobody came back. Nobody came back for weeks. It was looking for a while that nobody wanted to come back and rebuild the city. We felt the shock of thinking, 'What would happen if the city should not come back?' " Ms. Gisleson says. "That's why we had the impetus to start creating things."
Under the collective name Antenna, she and other artists staged art shows and literary events, published books, and hosted free workshops, all in the spirit of breathing new life into New Orleans, a city that many in the wake of hurricane Katrina, had left for dead.
The embers of those early endeavors helped launch a full-fledged artistic renaissance in New Orleans, embodied by a new arts district of storefront galleries in the city's Bywater and St. Roch neighborhoods, increased enrollment in the local university art programs, and the arrival of artists from all over the world.
The amplified activity is building a body of work that addresses Katrina from both the inside and from many states away.
As a source of recorded history, the art offers dimensions much more complex than those of photography or video. But there are those who say artwork involving the flood is in danger of becoming "emotional pornography," says Gisleson. Like many things in New Orleans – pictures of cemetery tombs, bus tours of the devastated Lower Ninth Ward – the city's moribund charm is inevitably tagged with a price.
---