Six Picks: Recommendations from the Monitor staff
'Slings and Arrows' comedy on DVD, charming new children's book from Arnold Lobel, National Geographic's 50 scenic drives, and more.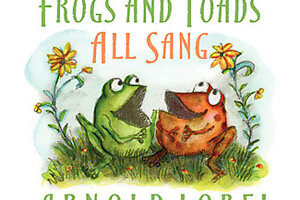 Harper Collins
One (last) froggy evening
A newly discovered Arnold Lobel book is cause enough to smile. That "The Frogs and Toads All Sang" (HarperCollins, $16.99) features the late Caldecott medalist's gently whimsical amphibians means it's time to party. Fortunately, Lobel ("Frog and Toad Are Friends") has taken care of the festivities with the title poem, in which "They danced in the meadow./ They danced in the street./ They danced in the lemonade/ Just to cool their feet." Originally a handmade book given as a gift, and skillfully colored by Lobel's daughter, Adrianne, it's a labor of love all round.
If meditation had a sound
Norwegian trumpeter Arve Henriksen's latest CD, "Cartography" (ECM Records, $17.99), is hauntingly beautiful, traversing a musical landscape between ambient, nu jazz, and contemporary classical. His warm "vocal" trumpet tone recalls his label mate Jon Hassell, as well as Japanese Shakuhachi flute music. The album is bookended with melancholy spoken vignettes written and recited by British chanteur David Sylvian. Rich with reverberant electronics and digital sound design, the music feels like sheets of mist suspended over a fiord.
Enchanting comedy
---