Fall's bounty of books
Publishers are pushing out a crowd of star authors this season in a race to prop up sales.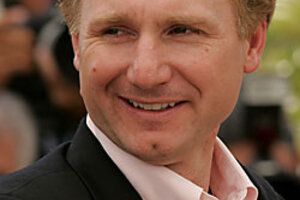 Newscom
Novelist Lisa See could be spending her September basking in the glow of three months on The New York Times bestseller list, but she has her eyes on another prize: keeping the competition at bay through Christmas.
Ms. See is stepping up her phone interviews to book clubs and participating in more online chats about "Shanghai Girls," her well-reviewed novel about two Chinese sisters who leave for America in the 1930s. It's all part of her "grass-roots" mission to make sure her book "doesn't fall off into the abyss" during the biggest sales season of the year.
It will be hard work, but See has one solace: At least her book has been on store shelves for a while. "I'm so glad I don't have a book coming out right around Dan Brown," she says.
But plenty of other big names have new novels in competition with Mr. Brown's near-guaranteed blockbuster, another sequel to "The Da Vinci Code." And therein lies the rub about this year's fall season in books: It's chock-full of star authors, a bounty that could pull the publishing industry out of its doldrums or leave few winners and many losers.
In addition to Brown, well-known novelists with new books on store shelves this fall include the late Michael Crichton, E.L. Doctorow, Barbara Kingsolver, Margaret Atwood, Thomas Pynchon, Richard Russo, and many more.
---