Six Picks: Recommendations from the Monitor staff
Wallace & Gromit track down a 'cereal killer,' 'Cosby Show' marks 25 years, Lev Grossman's latest novel is like 'Narnia' for adults, and more.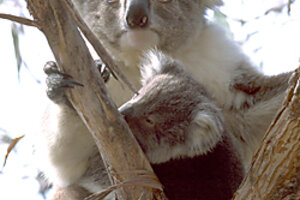 BBC
Earth – up close
On Sept. 20, BBC America opens another chapter in its natural-history series, BBC Earth, with five documentaries. Narrated by renowned naturalist David Attenborough, the block begins at 3 p.m. and features three premières that focus on how and why the globe's 4,000 species of mammals have colonized every corner of the planet, the intimate interactions of lions in their dens, and an up-close encounter with grizzly bears.
Baking tall tales
Break out the crackers, and slice up some Wensleydale! Wallace & Gromit are back! In the award-winning mock-u-mystery "A Matter of Loaf and Death" (now out on DVD), the inveterate inventor has gone into the bread business, converting his house into the Top Bun bakery. But all is not well in the doughmaking world: 12 other bakers have died under mysterious circumstances, and Gromit has to track down the "cereal killer" before Wallace makes it a baker's dozen. A true treat for Anglophiles and animation fans.
A Cosby family marathon
For those who watched TV's Huxtable family charm its way into America's heart under its family patriarch, comedian Bill Cosby, it may be hard to believe it's been a quarter century since the show's debut. On Sept. 20, superstation WGN America celebrates the 25th anniversary of this groundbreaking comedy with a full day of "Cosby Show" programming. For more info: www.wgnamerica.com
A city's struggle
---