How a little jam went global
'Stand by Me' YouTube hit started a cascade of interviews, a CD – and next month, a tour.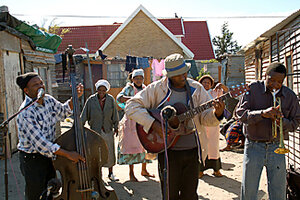 Playing For Change
No explanation is sufficient as to why a cover of a Ben E. King chestnut from 1961, sung by a band of unknown street performers and indigenous musicians from all across the globe, would ever, in the remotest way possible, become a Top Ten hit.
But this is the free-for-all era of digital media, where your mother or your neighbor could become stars if struck with the right idea or confidence to reveal an undiscovered talent. Viral distribution is why "Stand By Me," sung by a group called Playing for Change, became a YouTube hit earlier this year, resulting in a bestselling album, a PBS special, several national television appearances, and, starting in late October, a national tour.
The phenomenon fell into place organically and with ease; however, getting to this point took Mark Johnson, a recording engineer in Los Angeles, four years of travel over 15 countries. Between stints working the studio console for stars such as Paul Simon and Jackson Browne, Mr. Johnson designed Playing for Change as a pet project he hoped would "show all different cultures and races and political points of view coming together to do something positive."
---