Six Picks: Recommendations from the Monitor staff
Streisand up close, Mandela's autobiography for children, 'Hubble's Amazing Rescue' on PBS, and more.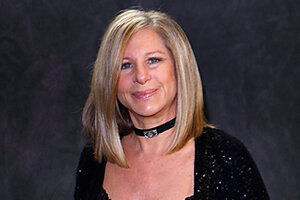 Chip East/Reuters
Streisand up close
If you've ever wondered what Barbra Streisand would sound like stripped of the gigantic orchestra that always seems to get between her magnificent instrument and real intimacy, here's your chance to experience the diva up close and personal. Her new CD, "Love Is the Answer" (Deluxe Edition), was produced by jazz great Diana Krall, who brought a stellar list of standards to Barbra to record two ways: First with a Johnny Mandel-led orchestra (pretty snoozy), and second with Krall's seasoned jazz quartet (warm and intimate). You can buy the whole 25-track album, or better yet just download the 12 quartet-only versions online.
Mandiba for children
Nelson Mandela's extraordinary life, captured in his autobiography "Long Walk to Freedom," is now out in an abridged version for children. Written by Chris van Wyk and illustrated by Paddy Bouma, it offers 6-year-olds a chance to learn about the Nobel Prize winner from his boyhood in rural Transkei to his election as president of South Africa.
Dolphin determination
---