The heart of Latin art
It's not just folk, it's fusion. Exhibitions nationwide spotlight a bold and visionary tradition.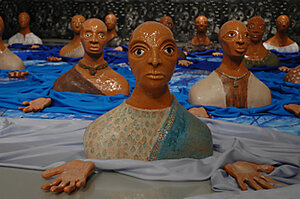 Courtesy of Lyman Allyn Art Museum
Latin American art is hot. Just ask the enthusiastic patrons of the Bowers Museum. Tucked away 30 minutes south of Los Angeles, this medium-sized art center has managed to make a name for itself bringing shows that say something about where the public's cultural heart is headed. And these days, increasingly, that is toward creativity from south of the US border.
"This is a story of growing social, political, and economic awareness between the world's remaining superpower and its intimate neighbors," says Richard Townsend, director of the Museum of Latin American Art (MOLAA) in nearby Long Beach, "one that is being told through the language of art." The twin shows at the Bowers (LATITUDES: Latin American Masters from the FEMSA Collection and "The Baroque World of Fernando Botero"), are part of what curators and critics from all over the hemisphere are calling an important flowering of interest in art from Chile to Puerto Rico, Cuba to Colombia.
---