Six Picks: Recommendations from the Monitor staff
Garry Shandling's humor on DVD, an Italian cook's life in paperback, Cuban music after Castro, and more.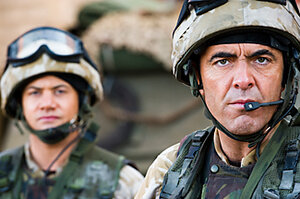 Kudos film and tV/BBC
A war in motion
War dramas are not easy to watch and often – if the battles are still raging – not long on insight or perspective. The BBC's award-winning "Occupation," a three-part tale of three British soldiers involved in Basra after the Iraq invasion, manages to bring a war into a meaningful, if darkly emotional, focus as it explores the impact of billions of dollars of US investment and an uncertain prognosis for both the local population and those who are prosecuting the effort. Begins on BBC America Oct. 18.
Groundbreaking comedy
Before Larry David, Ricky Gervais, and Steve Carell, there was Garry Shandling and his groundbreaking cable show on Showtime. Back in 1986, just as he was set to become a permanent guest host for Johnny Carson, he opted to create "It's Garry Shandling's Show," in which he self-consciously mocked every premise of late-night TV. The show ran for a mere four years, but every comic who came after him built on his routines of deadpan turns to the audience and witty irony. All four seasons will be released as a boxed DVD set on Oct. 20.
Boogie with Che?
Cuban music after Castro's revolution was largely a state-controlled art subject to rigid censorship to filter out Yankee influences, but for a few years the state looked the other way when Cuban bands mined US styles for inspiration. "Si Para Usted, Vol. 2" (Waxing Deep), is a well annotated CD compilation revealing young Cuban musicians with one ear tuned to Miami radio, the other to Radio Havana. Sixteen rowdy bands tinker with fuzz-toned psychedelic rock, blaxploitation soundtrack music, and jazzy funk. Nothing sounds dated today, making this an exhilarating capture of an unfettered musical era.
---