Who owns an artist's legacy?
Digital media open the door to mash-ups, tributes, and other reinventions.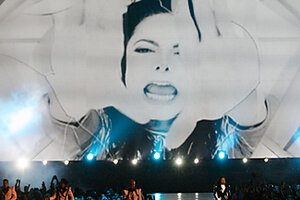 Gary Hershorn/Reuters
Living in an age of infinite media channels, death is no longer the career ender it once was. The megawattage that Michael Jackson generated in his halcyon days, for instance, is not expected to wane. With hundreds of millions of dollars at stake, his songs and performances, and even eccentricities, are expected to be the gifts that keep on giving for whatever party ends up with the keys to his estate.
This doesn't make Jackson any different from other marquee entertainers whose deaths have done little to prevent new products bearing their likeness and body of work from saturating the marketplace each buying season. But what is different in Jackson's case is that, unlike the deaths of pop-culture icons Elvis Presley, Frank Sinatra, or Tupac Shakur, advances in digital media threaten to unbridle the ironclad control that gatekeepers use to guard their ownership rights, tailor a narrative, and protect a legacy.
Today, user-generated videos and music files and the distribution networks that allow them to flourish are positioned to tamper with the way Jackson – and any other public figure – is perceived far into the future. Recent technology not only allows users to easily create and distribute unauthorized tributes, which may be in good faith, it also allows the potential for biographical errors, public mockery, and the abuse of official works, all to float on Internet platforms indefinitely.
---