Six Picks: Recommendations from the Monitor staff
Behind Obama's election on HBO, Charles Kuralt's travels on DVD, 'March of the Penguins' in new limited edition DVD, and more.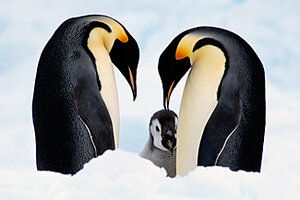 Newscom
Penguin news
The Oscar-winning documentary "March of the Penguins" is the remarkable story of emperor penguins in the Antarctic. Each year they traipse 70 miles to their breeding grounds, where mothers leave dads for months to balance the eggs on their webbed feet while they go off to feed. Along with the superb photography and Morgan Freeman narrative, this latest "March" DVD ($39.98) includes the feature-length documentary "On the Wings of Penguins."
Piano moves
Even if you never learned the piano, "Chopsticks" – in some basic form – probably entered your musical lexicon. Now the well-known waltz has been given a charming twist in Margo Guryan's "The Chopsticks Variations" ($9.99, Oglio Records) as she renders the piano classic in 14 wonderful, often witty styles, including jazz, ragtime, and boogie-woogie as well as the more classical adagio, allegro, andante, etc. A favorite in print, this is the first time the variations have been released on CD.
Obama behind the scenes
Nearly a year before Barack Obama announced his presidential bid, a team of filmmakers began recording everything from private phone calls between now-first daughters and their dad to the behind-the-scenes personal thoughts of the candidate and his idealistic team. "By the People: The Election of Barack Obama," a two-hour documentary on HBO, which airs Nov. 3 at 9 p.m., is a revealingly candid portrait of the man and his moment in history, filled with scenes that are at once small, poignant, and – in hindsight – politically momentous.
---