Six Picks: Recommendations from the Monitor staff
Astonishing footage from World War II on the Smithsonian Channel, Cape Verde's Billie Holiday on CD, 'Sesame Street' at 40, and more.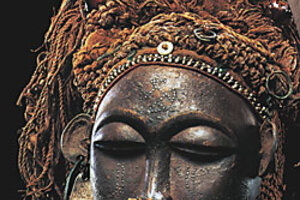 Courtesy of University of California Press
Inside Africa
Ivan Bargna's "Africa" ($26.95, University of California Press) panoramically honors the arts and cultures of sub-Saharan Africa as never before. With hundreds of full-color images and pithy interpretations, the political and spiritual foundations of African arts and crafts are illuminated with surprising depth for a travel-sized volume. Where else can you discover how oil-derrick pollution conflicts with water spirits, or see how a tabletop model of utopian Lagos ironically contrasts with the actual city? This volume is the newest entry in the "Dictionaries of Civilization" series, which includes China, Greece, Egypt, Rome, and Mesopotamia.
Scenes nobody saw
"Apocalypse: The Second World War" is a six-part series from the Smithsonian Channel, narrated by actor Martin Sheen and debuting on Veteran's Day, Nov. 11. The story is familiar, but its accompanying footage is nothing less than astonishing – reels once deemed too raw for civilian audiences: entire cavalry regiments massacred, the human faces of Germany's war on Jews, and surreal propaganda footage of German U-boat soldiers tossing bread to British survivors floating to nearly certain death in lifeboats after their ships were torpedoed.
---