Six Picks: Recommendations from the Monitor staff
Norah Jones' latest CD, Pixar's 'Up' on DVD, illustrated 'Kitchen Knife Skills' book for the cook in your family, and more.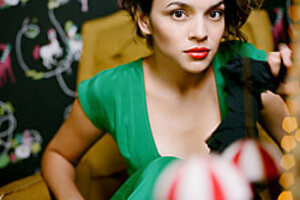 Autumn Dewilde
Norah's season
In support of her newest album, singer/songwriter Norah Jones will be TV hopping this week. "The Fall," a collection of bluesy new songs that is getting hot critical attention, arrives Nov. 17 from EMI Bluenote Records and you can catch the performer on any of the following dates: Comedy Central's "The Colbert Report" (Nov. 18), ABC 's "Good Morning America" (Nov. 16), and ABC's "The View" (Nov. 23).
Anatomy of an attack
On Nov. 26, 2008, Pakistani gunmen began a terrorist attack in Mumbai (Bombay), India that would soon come to be seen as the worst since 9/11 in the United States. In the hour-long documentary, "Terror in Mumbai," airing on HBO Nov. 19, narrator Fareed Zakaria calls it the "first 360 degree" depiction of a terrorist attack. The film, which is extremely graphic, includes conversations between the young men and their handler back in Pakistan as well as interviews with survivors and law enforcement officials who struggled to quell the rampage as the group took over the city's two top hotels, the Trident and the Taj Mahal.
---