Oprah Winfrey: saint or mindless consumerist?
Oprah Winfrey's announced departure from her daytime talk show has brought out her biggest fans and loudest critics.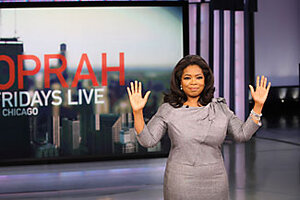 George Burns/Harpo Productions, Inc./AP
Secular saint or nefarious consumerist? No matter your opinion of Oprah Winfrey, it's impossible to ignore the global uproar over her announcement earlier today that she will be winding down her daytime talk show on broadcast television and moving over to her very own cable channel, the Oprah Winfrey Network (OWN), in partnership with Discovery Communications. OWN will debut in January 2011 to approximately 80 million viewers on what is currently the Discovery Health Channel.
Popular culture professor at Syracuse University, Robert Thompson, who grew up in Chicago where Ms. Winfrey began her career, says he has received requests for comments from around the world. Media watchers, sociologists, and branding experts say the frenzied outpouring reveals much about the impact, legacy, and future of the media empire Winfrey has built over the past quarter century.
"I'm shocked," says Mr. Thompson, who explains that the syrupy accolades and montages playing in cities from London to Sydney are more akin to a memorial. "This reminds me of the sort of tributes that poured out after Michael Jackson's passing. More about someone whose time is past," he notes. "Frankly, they don't bode well for the future of her projects in other areas."
---