Six Picks: Recommendations from the Monitor staff
'The National Dog Show' treat on NBC, Wynonna Judd on tour, 'Star Trek' prequel on DVD, and more.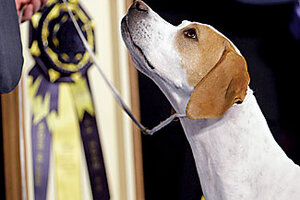 Visual Technologies
Canine capers
The Irish red and white setter, Norwegian buhund, and Pyrenean shepherd – those are the three new canine breeds making their debuts this year in the 125-year-old Kennel Club of Philadelphia dog show. The event itself takes place on Nov. 14 and 15, but "The National Dog Show" will air in high-definition on NBC at noon on Thanksgiving Day – right after the Macy's Parade.
Tragedy with a happy ending
The heroism on view in the documentary "Pray the Devil Back to Hell" (just out on DVD) is breathtaking. It's about a band of women in Liberia who, unarmed, stood up to tyrants and won. And it's all true. These women, both Christian and Muslim, stopped the bloodshed and engineered the exile of dictator Charles Taylor, who was subsequently put on trial for crimes against humanity. The result was the election of Ellen Johnson-Sirleaf, Africa's first female head of state.
Wynonna tour
Country singer Wynonna Judd takes her Christmas show on the road for the third time, featuring traditional favorites as well as an original, "It's The Messiah." The Palmetto State Quartet joins Wynonna – for background vocals. The quartet, a well-known gospel group, is led by Wynonna's pop, Larry Strickland, a former backup singer for Elvis Presley. The show launches on Nov. 28 in Hershey, Pa., and will travel to 15 cities, concluding on Dec. 20. Can't make the show? Pick up the 2006 album on which it is based, "A Classic Christmas."
---