2009 Gift Guide
Monitor picks for TV, movies, music, and games.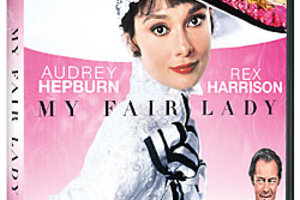 With festivities cranking up, a good movie or evocative CD can instantly shift you into the holiday mood. So whether you're looking for presents or something to share with family and guests, we have winnowed the avalanche of choices to a trim 22 that we think will delight, fascinate, and maybe even make you laugh. As Eliza Doolittle would say, "Wouldn't it be loverly" (from the "delight" category's "My Fair Lady" with Rex Harrison and Audrey Hepburn).
• A percentage of the purchases using the Amazon links below will go toward supporting the Monitor.
FAMILY
Up ($45.99) Buy on Amazon.com
This animated film won so many critics' "thumbs ups" earlier this year that some see a "best picture" Academy Award nomination ahead. Calling it the adventures of an elderly widower and an 8-year-old wilderness explorer flying in a house transported by balloons, who must save Kevin, the flightless bird, doesn't begin to describe how it touches the hearts of both children and adults. Disney Pixar's Blu-ray video pack offers many extras, including the charming short feature "Partly Cloudy" (shown in theaters) and an amazing documentary in which the filmmakers visit the actual remote, bizarre, flat-topped mountains in Venezuela that are the site of much of the film's action. To make sure you're never without "Up," the pack also includes a disc for downloading "Up" onto a computer or mobile device.
---
Follow Stories Like This
Get the Monitor stories you care about delivered to your inbox.