Photoshop and Facebook, Victorian-style
Long before Photoshop and Facebook, upper-crust British ladies were cropping and splicing with giddy abandon and drawing spider webs inhabited with the pasted-on faces of their friends.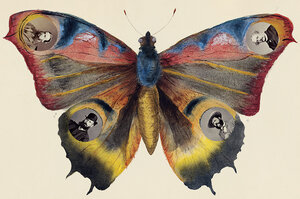 Courtesy of the Metropolitan Museum of Art
It's not often art with a capital "A" can be called charming. And rarely do we see artworks so little known that their appearance seems a novel discovery. But the Metropolitan Museum of Art's exhibition "Playing with Pictures: The Art of Victorian Photocollage" is both charming and new. "It's art," says Malcolm Daniel, curator of photography, "but it's OK to smile and laugh."
About 50 works from 13 photomontage albums created mainly by aristocratic Victorian women are on display through May 9. "You may think of [the exhibition] as a very un-Metropolitan-like show," Mr. Daniel admits. "But it's part of the full picture of the part played by photography in the 1860s and '70s."
In these albums upper-crust British ladies pasted cutout photographs on watercolor scenes they created themselves, often to hilarious effect. In one, Kate Edith Gough glued her head and that of her twin sister on torsos of two ducks placidly paddling on a pond surrounded by cattails. The sisters' grave faces, crowned with impressive millinery, betray no awareness of the incongruity of their situation.
IN PHOTOS: Playing with Pictures: The Art of Victorian Photocollage
Most shows of early British photography, Daniel says, feature "large, ambitious pictures by great masters of the medium – almost always a man." In contrast, these works "are made by women for personal pleasure, not public consumption."
---