Top Picks: 'Afghan Star,' Sistine Chapel, 1% Music, and other recommendations
Insightful 'Afghan Star' on DVD, the Sistine Chapel up close online, 1% Music compilation to help save the planet, and more top picks.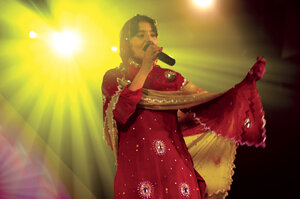 C4i Distribution
'Idol' Afghan-style
A contestant on "American Idol" might risk humiliation, but a contestant on the Afghanistan "Idol" spinoff TV series "Afghan Star" could risk his or her life. The documentary "Afghan Star," now out on DVD, uses the TV show as a window on the entire Afghan culture. Under Taliban control in 1996, war-torn Afghanistan banned music, dance, movies, and television. It was not until 2005 that the ban was lifted, but warlords and Islamist leaders still exert a heavy toll. When one of the four finalists, 21-year-old Setara, lets her head scarf slip during her number, she is threatened and forced into hiding.
Sistine singularity
If you are an art lover and can't quite swing a trip to Italy, now a team from Villanova University brings Vatican City's iconic Sistine Chapel to your fingertips with a 360-degree Internet tour – www.vatican.va/various/cappelle/sistina_vr/index.html. Granted unparalleled access, a team of faculty and students snapped several thousand digital photographs, including Michelangelo's famous frescoes. Stand in the center, zoom in, zoom out. It almost beats being there as you could rarely expect such unblocked viewing in the real chapel.
Welcome to Middle-Earth
Fans of the J.R.R. Tolkien classic, "Lord of the Rings," can mark April 6 on their calendars. Both Peter Jackson's film trilogy and Ralph Bakshi's animated version arrive in Blu-ray clarity – more detail, pristine sound, and a clearer view of both artists' creative visions. Extras include behind-the-scenes shorts, TV specials, literary analyses, and an interview with Bakshi. The films will also be available via cable and satellite on-demand options as well as a digital download at online retailers.
---