Twyla Tharp takes a spin once more with Sinatra in 'Come Fly Away'
Twyla Tharp's new Broadway musical grew out of an early love of Sinatra's music, introduced to her by her mother.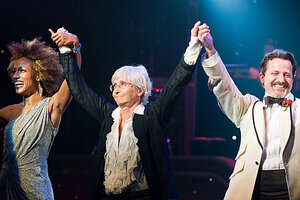 Charles Sykes/AP/File
Veteran choreographer Twyla Tharp has been making dances to the Frank Sinatra songbook for more than 30 years, so it was no surprise she turned again to Ol' Blue Eyes for her latest foray onto Broadway. "Come Fly Away," a wordless musical that follows four couples in and out of love, is currently playing at New York's Marquis Theatre.
"Come Fly Away" is a joyous evening in the theater, fueled by a company of virtuoso dancers whom Tharp has prodded into delivering performances that sizzle. The action unfolds in a nightclub, with an 18-piece live orchestra, and occasionally a female vocalist, warbling along to Sinatra's recorded voice. Although the plotlines are familiar – and inconsequential – the moves of the dancers are not. Tharp manages to roll together ballroom dance, hip-hop, modern, and ballet technique into choreography as expressive of emotions and frustrations as the whispered repartee between lovers.
"I look at it as a silent movie," she says. Tharp first used Sinatra songs for "Once More Frank" (1976), which she performed with Mikhail Baryshnikov at an American Ballet Theatre gala. "I hoped we could get him [Sinatra] to sing. It was a fundraiser. We both thought he was terrific. If you're going to go popular, why not go with the best?"
Her introduction to Sinatra came early, through her mother. Back in the 1950s when Twyla was 8 years old, she worked at her mother's drive-in theater in San Bernardino, Calif. "The cars had individual speakers. During intermission my mother would pipe through music. I'm sure Sinatra was part of the mix because he was her favorite vocalist."
---