Cartier-Bresson: A master's black-and-white world
Cartier-Bresson captured moments and movements of profound social change with an artist's eye. A new exhibition looks at 45 years of his iconic work.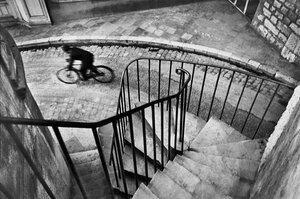 © Henri Cartier-Bresson/Magnum Photos, Courtesy of Fondation Henri Cartier-Bresson
"The great pleasure for my Leica," the French photographer Henri Cartier-Bresson (1908-2004) wrote in 1987, "was to have the spare elements of a collage suddenly jump from the street into the lens." Until June 28, visitors to the Museum of Modern Art (MoMA) have the great pleasure to see that fusion of street and lens in 300 photographs that make up "Henri Cartier-Bresson: The Modern Century."
No one looked "more poignantly at the world," according to MoMA's director, Glenn Lowry. "One of the most talented photographers who ever lived," pronounces Peter Galassi, chief curator of photography. Cartier-Bresson, he adds, "was a brilliant creator of aphorisms, a genius of lasting sound bites." His snapshots are compact, visual metaphors for each social entity he documents.
Yet Mr. Galassi cautions viewers not to be misled by the iconic quality of the indelible images. "All that pictorial perfection can mislead us," he says, noting that aesthetic perfection was not Cartier-Bresson's raison d'être. "The reach of his curiosity," Galassi says, "is breathtaking." Not content to make pretty pictures, his goal was to discover the world and, in so doing, expand his – and our – vision.
---