Top Picks: Saturday Night Live, 'Dr. Zhivago,' Deepak Chopra, and other recommendations
Betty White hosts Saturday Night Live, newly restored 'Dr. Zhivago' on DVD, Deepak Chopra on 'Oneness,' and more top picks.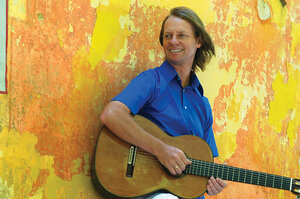 Courtesy of David Russell
A guitarist's guitarist
Grammy-winning guitarist David Russell shines on his new album, "Sonidos Latinos" (Telarc), a showcase of solo guitar works by five Latin guitar masters including Augustín Barrios Mangoré and Jorge Morel (Morel dedicated two pieces to Russell). The six-string tunes range from lively dances to beautiful ballads. A guitarist's guitarist, Russell combines virtuosic talent with a respect for simple, beautiful melodies and cadences. More important, the audio quality is so good, you'll forget Russell isn't in the room.
Girl power
In the "we are women, hear us roar" category, the eternally ageless animal-rights activist Betty White will host NBC's "Saturday Night Live" on May 8 at the head of a glittering cast of former SNL GRRR-L power. The show will feature such SNL alumnae as Amy Poehler, Tina Fey, Maya Rudolph, Molly Shannon, Ana Gasteyer, and Rachel Dratch.
---