Top Picks: Spoleto Festival, Regina Carter, Cooking Channel, and other recommendations
Spoleto Festival USA opens, violin virtuoso Regina Carter's new album, the new Cooking Channel launches, and more top picks.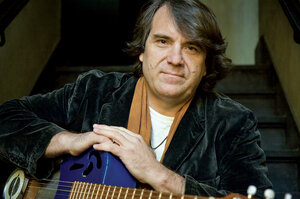 Courtesy of Scott Simontacchi/Full Light Records
Violin Virtuoso
Violinist Regina Carter, the first jazz artist and African-American to play Niccolo Paganini's famed Guarneri "Cannon" violin, has performed with symphony orchestras and with artists as diverse as Aretha Franklin, Billy Joel, and Mary J. Blige. With her new album, "Reverse Thread," an eclectic but haunting reimagining of African folk songs, this MacArthur "genius" grant recipient establishes herself as a world-class soloist with a singular imagination.
Uncommon courage
The Korean War, often called the "forgotten war," ushered in a new era of racial relations in the military when it anointed the first US Marine of Chinese descent to lead US troops into battle. Lt. Chew-Een Lee fought not only communism and hypothermia, but racism and prejudice to become a war hero, leading 8,000 trapped US soldiers to safety after being encircled by Communist Chinese forces. "Uncommon Courage: Breakout at Chosin," airs on May 31, at 8 p.m. on the Smithsonian Channel.
---