Top Picks: 'Expedition Great White,' Ron Galella documentary, a look at Old Havana, and more recommendations
New series from National Geographic 'Expedition Great White,' documentary 'Smash His Camera' about paparazzo Ron Galella's own life, 'Havana Revisited, a new book on Old Havana, and more top picks.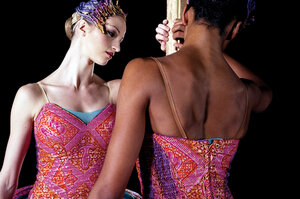 Courtesy of James Cohan Gallery/New York
Inclusive arts festival
More than 600 artists from all over the globe are descending on Washington, D.C., June 6-12 for the largest celebration of arts and disability in the world. A mix of dance, music, theater, visual arts, and film, the 2010 International VSA Festival includes headliners such as Mali's Salif Keita, Patti LaBelle, and glass sculptor Dale Chihuly.
Brando broke his jaw
If you have mixed feelings about today's celebrity culture, HBO's "Smash His Camera" about legendary paparazzo Ron Galella offers a fascinating look at hit-and-run photography. Controversial and often vilified, Galella captured some of the most iconic images of the past 50 years. But his tactics got him sued twice by Jacqueline Onassis and slugged by Marlon Brando. Watching the documentary is like getting tips on how to be a sociopath. Airs June 7 at 9 p.m.
Havana past and present
---